K&S PROMOTIONS
on Tour
---
K&S WrestleFest & Highspots return to
The Big Event.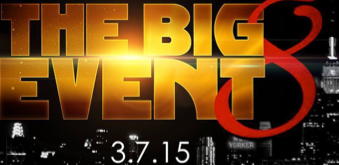 K&S Wrestlefest and Highspots is pleased to once again team up at the
Big Event
on Saturday March 7th
at the LaGuardia Plaza Hotel
in Queens NY
---
Here are the times of our featured guests:

***Appearing from 8:30 until 11:30am (with Lucky 13 Promotions)
Chavo Guerrero Jr.
***Appearing from 9am until 11am:

Samoa Joe,
AJ Styles (TNA Nation)
, and
The Young Bucks

(AJ Styles andYoung Bucks will have on Bullet Club gear and will also have IWGP Titles for Photos)

*** Appearing from 10am until 1pm:
Bobby Heenan, Jake Roberts, Disco Inferno, and Raven

*** Appearing from 11am until 2pm.
Larry Z

*** Appearing from 11:30am until 1pm
Los Conquistadors in gimmick

*** Appearing from 1pm until 2pm
Jose Rivera and Jose Estrada
---
Guest include:
---
Highspots is a leading online retailer for professional wrestling and mixed martial arts offering figures, DVD's, Apparel, Belts, wrestling gear and even wrestling rings!

Highspots is committed to be your one-stop-shop for all wrestling and MMA products. Whether you are a wrestling fan, pro wrestler or promoter you can find what you are looking for at Highspots.com.

Click link to visit the official Highspots website.